Comparision Charts of 92 Firewire, PCI and USB 2.0 Audio interfaces

The FIREWIRE chart can be found here:
http://tweakheadz.com/audio_interface_fw_comparison_chart.htm
The PCI chart can be found here:
http://tweakheadz.com/audio_interface_pci_comparison_chart.htm
The USB 2.0 Chart is here:
http://www.tweakheadz.com/audio_interface_usb2_comparison_chart.htm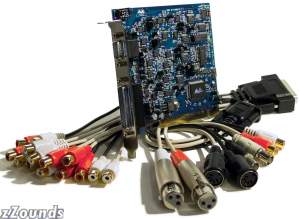 How to Read the Charts
This handy chart can help you narrow down your choice of a firewire audio interface. It will save you hours of research and will cut through a lot of confusion caused by the inconsistent definitions manufacturers often use. First of all, manufacturers may count inputs and outputs differently. This chart is an attempt to fairly compare the above devices, but is based on interpretation of what constitutes a discrete audio channel.
Analog i/o
refers to actual analog input and output channels, not necessarily how many input and output jacks are on the device. The first number is the number of input channels and the second number is the number of output channels. This number includes the mic preamps but does not include headphone outs. If a Mic preamp and a line input share the same channel, that channel is only counted once. This is to give you a true idea of how many analog input and output channels the box has. Likewise if the main output pair has "main outs" and "monitor outs" these channels are only counted once, as they share the same channels.
How many analog inputs you need depends on how many sources you want to record at the same time. Also, if you have a synthesizer or drum machine you need inputs through which to record and monitor these. How many outputs you need depends on how much gear you have that you want to send audio to. If you want to use an FX box, you need to use an output to send it audio and you need two inputs to get it back. If you want to mix your song on an analog mixer you need a lot of outputs. If you are mixerless and are mixing in your software you only need 2 outputs--those to which you connect your monitors.
S/pdif i/o
is either yes or no. This is a stereo digital pathway, and may be either coaxial or optical. S/pdif is useful for connecting digital audio devices, like external a/d converters, effects processors, CDR recorders, even some preamps and keyboards that have digital outs.
Preamps
refers to the number of microphone preamps the interface has.
ADAT refers to an 8 channel digital input and output. Its is useful for connecting more mic preamps, a second audio interface or computer, a digital mixer, or can be used to add more analog i/o through an 8 channel ad/da converter.
MIDI i/o
refers to the number of 16 channel ports there are on the interface. 1/2 means it has one MIDI input and two MIDI outputs. MIDI inputs and outputs are used to connect a MIDI synthesizer, keyboard controller, drum pad controller, and some control surfaces. You need one port for every device you want to connect to the computer. You can always add more via separate MIDI interfaces.
Headphones
refers to the number of stereo headphone jacks on the unit.
Word Clock
refers the presence of a BNC connector through which word sync signals can be sent to other digital devices. It is important that all digital devices connected through s/pdif or ADAT share the same word sync. For simple setups that may have two digital devices, having a word clock connector is not usually necessary. Sync can be sent along through the s/pdif or ADAT connection. It becomes important in rigs where there may be multiple digital devices where it is impossible to send word sync to all devices.
Prices
and specs may change from when this chart was made. You can check the product descriptions at the manufacturers websites for up to date details.