This project evolved from the original discussion
here....
NOTICE: THIS IS AN ORIGINAL DESIGN BASED ON DATASHEETS AND APPLICATION NOTES PUBLISHED BY THE CHIP MANUFACTURERS.

A lot of other companies are using the same chips/technology we'll be using in this DIY design. We are not cloning any particular product here. We're just using the same mic preamp chips that Rane, Maudio, Grace, DAV and others used.
The SC-1 Mic Preamp is a THAT 1510/1512/SSM2017/SSM2019/INA217 based Mic preamp with phantom power, DC servo and Balanced line output driver.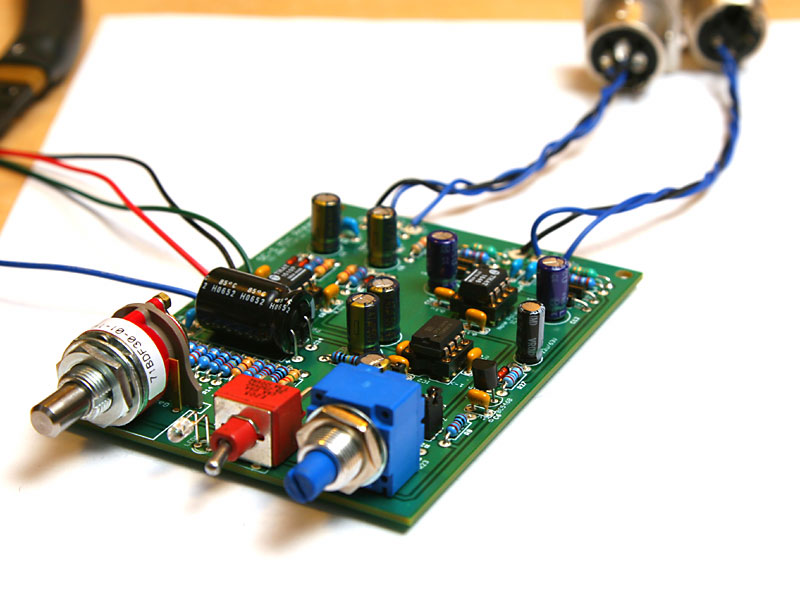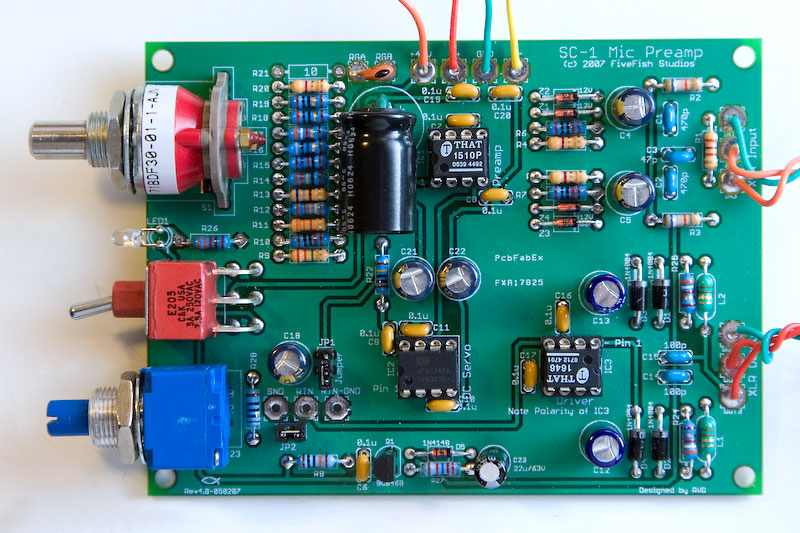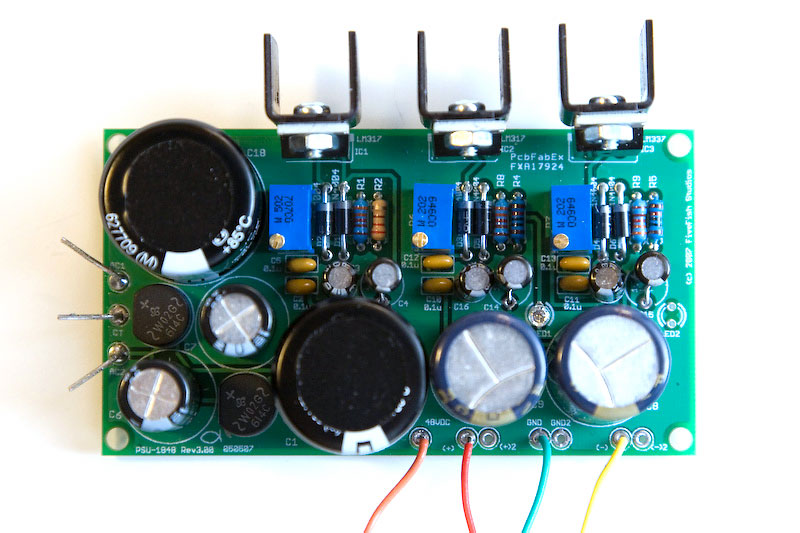 Design Goals
The goal is to provide a great performing, nice sounding mic preamp that's reasonable in cost in DIY kit form.
This gives the user the chance to build the preamp themselves and use their imagination and creativity in housing this preamp in it's own custom case.
- Simple, Great Performing, Quiet, High-Quality Mic Preamp chips
- with 48V phantom power
- LED indicator for phantom power
- powered by 18-0-18 Volts supply, with +48VDC for phantom power
- balanced output
- 12-position gain selector switch
- insert points for optional Trim potentiometer*
- insert points for future compressor, EQ, signal processing modules
- hook-up points for use of a potentiometer for gain control instead of the 12-position gain selector switch
- 0 to 66dB gain in 6dB increments
(UPDATE: +6dB to +72dB gain)
- input clamping protection
- output surge protection circuit
- output RFI protection
* The Trim pot has now been included in PCB Rev1.2
Block Diagram
The SC-1 Mic Preamp has a straightforward design. The approach is to use the minimum number of components in the signal path, but at the same time provide flexibility to the end-user to add in-line signal processing options.
A DC servo approach was used instead of AC coupling. The Balanced line driver is connected directly at the output of the DC Servo.
In case the user wants to use the optional trim level, "insert/tap points" are provided on the circuit board to insert this potentiometer in the signal path. This will function as the volume control and provide more control over the 6dB per step of the gain selector switch.
These "insert/tap points" also provide a way in the future to add additional in-line signal processors. Some things that come to mind are VCA compressors, FET-based compressors, Passive EQ, Active EQ modules, Low-cut, High-cut filters, exciters, etc...
This gives the user customization capabilities in creating his own unique mic preamp channel strip!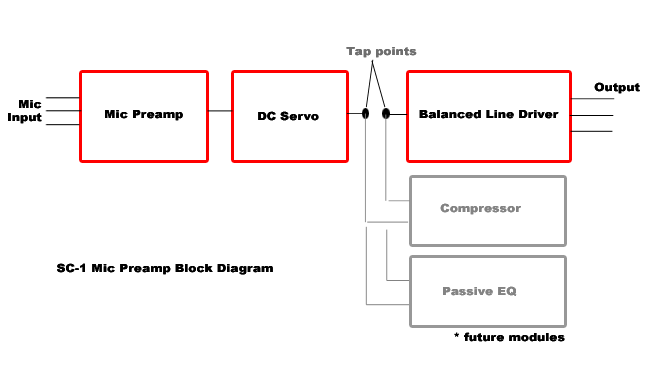 TO DO:
Prototype PCB Boards were sent out for manufacturing.
Parts from Mouser and Digikey ordered.
I'll be building the 1st prototype in 10 days.
Sound Testing and Oscilloscope testing
If everything works out great, we'll have a new mic preamp kit.
[Blog]
While the IC mic preamp chips used cost only a few dollars, shipping charges at $12 to $18 a pop everytime you order from a different online store quickly increases the overall cost for the project.
So if I'll be providing this in kit form at a reasonable price, I will have to order parts in bulk to save on shipping costs, and also to get a price break by buying wholesale.
But that would mean I'd be shelling out hundreds of dollars ordering a single part. Multiply it by the number of parts needed, I'll need to invest a few thousands of dollars to stock-up for a few complete kits. :shock:
I also need to ask the PCB manufacturer for a custom quote for, say 100pcs, of the PCB. The prototype PCB cost is not meant for mass production.
So thus, I started a poll to see if the interest is in PCB only or PCB + parts.
March 2, 2007
I have the preliminary PCB done.
Measuing 4" x 2.5". I kept the height under 3.5" so there's the option of installing it vertically on a 2u case... if you want to cram 8 channels in a rack.
I'm using a 1-deck, 12-position Grayhill sealed rotary switch, PCB mounted. There are two solder pads in case you want to use a reverse log pot instead. The rotary switch will also hold it secure on the rack front panel vertically.
Gain is 6dB, starting at 0db up to 66dB, in 12 steps. 6dB is a big jump so I don't know if I should include a pot as a "Trim" level pot. This can be placed after the mic pre, before the balanced line driver converter.
I still have space on the PCB so I'm investigating the use of PCB mounted switches for phantom power, and also installing the phantom power and power on LED on the PCB.
BUT the price goes up everytime I add a PCB mounted component. The rotary is $16.50 ! A reverse audio log pot will be cheaper. An open-frame selector switch can be bought for $1.00. But you'll have to wire all 13 wires back to the board (or solder the resistors on the selector and you'd only have to bring 2 wires back to the board.) But the open-frame switch will get mucky and dirty over time... resulting in pops and noise.
I'm trying to decide if I should use single-sided so it can be home etched, or double sided for convenience (and easier time routing). And if I'll have the PCB professionally manufactured, the cost is the same whether single or double-sided. So because of the latter, I'm leaning more towards double-sided.
For double sided boards, I can put a ground plane/island on top and bottom. I think this should help in eliminating RF noise.
For single sided boards, the numbe of jumpers needed are a lot. DAV BG-1 used 0-ohm resistors as jumpers so it won't look ugly.